"A demonic spirit's favorite activity is making a person "feel religious" without an understanding of the Word of God."
The way to be justified or right with God in every false religion is by earning your way.  It is based on works, not grace.  Christianity is different from every religion in this aspect: all other religions (including Mormonism, Islam, Hinduism, Buddhism, etc.) state that you must earn the right to be reconciled with God.  It is by what you do in this life (good deeds or bad deeds) that determines your eternal destiny.
Christianity is completely different from this.  It is not a man made religion based on "good works". It is a relationship that God has established with His children by grace.
The grace-based relationship between God and man is the foundation of Christianity and the antithesis of religion.
2:8 For by grace are ye saved through faith; and that not of yourselves: it is the gift of God:

2:9 Not of works, lest any man should boast.
Just as the Jewish leaders made a religion out of a relationship with God, many people do the same with Christianity. Entire denominations have followed the way of the Pharisees in creating rules and false doctrine not found in Scripture. Some who profess to follow Christ are actually following man-made religion in the name of Jesus.
While claiming to believe Scripture, they are often plagued with fear and doubt that they may not be good enough to earn salvation or that God will not accept them if they don't perform to a certain standard. This is religion masquerading as Christianity, and it is one of Satan's favorite tricks. Jesus addressed this in Matthew 23:1-7 when He rebuked the Pharisees.
Instead of pointing people to heaven, these religious leaders were keeping people out of the kingdom of God. The same is true today for many False Religions that create rules or false doctrine not found in Scripture. Some who profess to follow Christ are actually following man-made religion in the name of Jesus.
Most "religion", theistic or otherwise, is man-centered. Any relationship with God is based on man's works.
Religion is man trying to reach up to God.  The message of Christianity is God reaching down to man.  Religion is about what man has to DO to be right with God.  Christianity is about what God has already DONE to provide us the opportunity to be right with Him.  Religion says you must EARN your salvation by doing good deeds or certain acts and not doing evil or in the case of islam jihad, doing evil. 
Christianity says all we need to do is BELIEVE that Christ has already paid the price for the evil we have done, our sins.
10:9 That if thou shalt confess with thy mouth the Lord Jesus, and shalt believe in thine heart that God hath raised him from the dead, thou shalt be saved.

10:10 For with the heart man believeth unto righteousness; and with the mouth confession is made unto salvation.

10:11 For the scripture saith, Whosoever believeth on him shall not be ashamed.
3:16 For God so loved the world, that he gave his only begotten Son, that whosoever believeth in him should not perish, but have everlasting life.

Christianity says we are all evil (filled with sin) and there is nothing we can do to earn the right to be saved. 
64:6 But we are all as an unclean thing, and all our righteousnesses are as filthy rags; and we all do fade as a leaf; and our iniquities, like the wind, have taken us away.
Christianity says that God (in the form of Jesus Christ) stepped into our place and paid the awful price that had to be paid for us.  He gave us the free gift of salvation if we choose to believe in Jesus.
So often you hear from people that they think they will go to heaven because they have "been a good person".  Being good has nothing to do with whether you are saved or not.  That's religion.  You can't earn it.  Thank God, because none of us could ever be good enough. 
3:5 Having a form of godliness, but denying the power thereof: from such turn away.
If there is one thing that reveals "a form of godliness," it is the lack of true spiritual power that it demonstrates. There is no power to change lives! Its "power" is in words, customs, cultural things, a feel good religion, etc but not in God! The true Gospel power is denied.
An example would be a false church that has twisted the Word Of God and added words, customs, cultural things etc.
False religions that teach "false gospels" make a person feel religious without an understanding of the Word of God.
---
Religions Of The World The 2nd Death (Sermon Text) The Eternity Of Hell's Torments (Audio) (MP3) Read God's Word
Identify Cults And False Religions ThisWasYourLife.org FineTunedUniverse.com GooToYou.com ThisWasYourLife.org
---
2 Timothy 3:1
3:1 This know also, that in the last days perilous times shall come.

3:2 For men shall be lovers of their own selves, covetous, boasters, proud, blasphemers, disobedient to parents, unthankful, unholy,

3:3 Without natural affection, trucebreakers, false accusers, incontinent, fierce, despisers of those that are good,

3:4 Traitors, heady, highminded, lovers of pleasures more than lovers of God;

3:5 Having a form of godliness, but denying the power thereof: from such turn away.

3:6 For of this sort are they which creep into houses, and lead captive silly women laden with sins, led away with divers lusts,

3:7 Ever learning, and never able to come to the knowledge of the truth.

3:8 Now as Jannes and Jambres withstood Moses, so do these also resist the truth: men of corrupt minds, reprobate concerning the faith.

3:9 But they shall proceed no further: for their folly shall be manifest unto all men, as their's also was.

3:10 But thou hast fully known my doctrine, manner of life, purpose, faith, longsuffering, charity, patience,
---
---
3:16 All scripture is given by inspiration of God, and is profitable for doctrine, for reproof, for correction, for instruction in righteousness:
---
---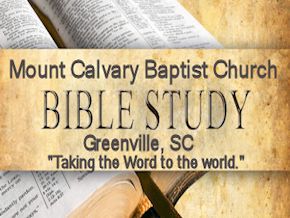 Mount Calvary Baptist Church (Greenville SC)
---
---
Taking the Word to the world to make true disciples of Jesus Christ and mature the members of His Body, the Church, for displaying His likeness.
We would like to invite you to visit our church. Mount Calvary has been a part of Greenville for more than 50 years, and the possibility of seeing God's Word meet the needs in your life still excites us.
Our people are friendly, and the atmosphere of our services still displays an appropriate reverence for God. Our services are intended to bring people face to face with God's Word through traditional, gospel hymns and biblical preaching.
Sunday service times: Sunday School 9:15, Morning Service 10:30 AM, Evening Service 5:30 PM, Wed Prayer Service 7:15 PM Greenville, SC
---
Mount Calvary Baptist Church sermons are now available on your ROKU. There are over 5 million subscribers worldwide to various ROKU channels. The channel "Christian Perspective" channel   exclusively features Mount Calvary Baptist Church Sermons. This is a free channel that can be installed via this link:
Use the above link to log into your account and enter this code to install this new channel.  MCMMPL
Use https://my.roku.com  to create a free ROKU account also and then enter this code MCMMPL to install the "Christian Perspective" channel on your ROKU streaming player to listen to Mount Calvary Baptist Church sermons on your tv, laptop, tablet etc.
---
---
---
Religions Of The World The 2nd Death (Sermon Text) The Eternity Of Hell's Torments (Audio) (MP3) Read God's Word
Identify Cults And False Religions ThisWasYourLife.org FineTunedUniverse.com GooToYou.com ThisWasYourLife.org